Winning Together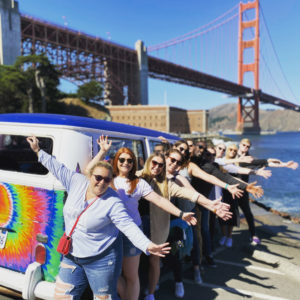 Love Tours is infinitely grateful to you for choosing us during your visit to San Francisco, allowing us to share with you our love for the city and its people. These past 5 years in operation have been very challenging but exponentially rewarding due to meeting people like you. Thank you!
We are in a crisis that has affected so many and Love Tours is no exception. During these trying times, we turned to our guiding values of Radical Empathy, Rooted Fairness, Open Communication and Winning Together to help us navigate these uncertain times. We are doing what we can for our community by volunteering our colorful VW's to deliver food to those in need. However, I'm here to recruit your support if it is within your reach. 
We are asking those of you who know and love what we do to help us reach our goal of raising $10,000 for donations to those in need and also help keep us in business. 
This is how we win together:
Purchase a Love Tour experience with no expiration date for your future travel. Code: ShareTheLove
Purchase a Love Tour experience on behalf of a local non-for-profit. Code: BusFullOfLove
20% of all proceeds will also be donated to a relief fund.
With the purchase of a Love Tour Experience gift card, you would be supporting our small mom & pop business, which we will contribute 20% of the total proceeds to the relief fund. You will be gifting the experience either to yourself, someone you know, or to a local non-for-profit. This is how we win together!
Go above and beyond:
Share this initiative with your friends and family
Sharing your tour photos & experiences with us via social media — People love hearing from real people!
Your help will enable us to continue to support the community and contributes to the success and longevity of San Francisco Love Tours bouncing back from this crisis. 
Allan
Founder