SF Maritime National Park and Museum
MARITIME NATIONAL PARK ENTRANCE   Right across the street from the pick up location on either side of Jefferson Street, you will encounter two out of three of the Maritime National Park locations. The park itself spans through the Aquatic Park and the "entrance" to the park can be located just adjacent to the Argonaut Hotel with a sign that reads "National Park Visitor Center". Here, you can meet with a park ranger and plan your day at the park. Once inside, you will be greeted by many model ships as part of a small museum dedicated to enriching ones knowledge about the history of the ports of San Francisco. A map covering the entire coast of San Francisco shows all of the 60 recorded shipwrecks that have been found thus far since colonization. The exhibit features  the native Ohlone Tribe and their encounter with the Spanish, a visual representation of the landscape of the coast pre and post industrialization, and many interactive exhibits of what life as a fisherman or sailor was like. 
HYDE STREET PIER                                                                                                                                                                            Across the way on Jefferson Street, the Hyde Street Pier is open to the public and has many historic vessels that are still functional to this day! The vessels include Balclutha, C.A. Thayer, Eureka, Alma, Hercules, Eppleton Hall, and Bay Ark. Some of the ships can still be explored and there is tons of opportunity for history lessons at the pier. Right at the entrance of the Hyde Street Pier, is a small gift shop for the Maritime Park and Museum called "Kingspoke", featuring many books and token items and trinkets to bring home from your adventure exploring the park.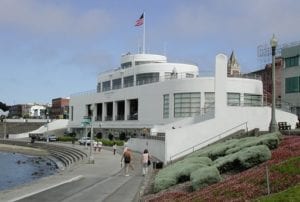 AQUATIC PARK BATHHOUSE
The largest feature in the park is the Aquatic Park Bathhouse, located at 900 Beach Street, which features murals covering the interior of the bathhouse walls painted in the 1930s by Sargent Johnson and Hilaire Hiler. Though the museum exhibits are ever changing, they cover much of the history of the ports and always include stunning artwork and photography that illustrates the sailors in San Francisco. The newest exhibit, opened January of 2016, called "Maritime Arts – At Sea and Ashore" focuses on the skills and trade techniques used by sailors. This includes carving work used to decorate ships and portraits of sailors and their proud stories of working on the crew. If you are ever riding with our tour guide, Bob, he will be sure to engrain into you the importance of a woman named Alma and her significance not only to the Aquatic Bathhouse, but to the rest of San Francisco as well. She is quite the spectacular person, so be sure to check it out!
Admission is always free at both museums and they are open from 10am to 4pm everyday!