Alcatraz Tours & The Love Tour
The Alcatraz Tours is one of San Francisco's leading attractions, due to its notoriety of their long term "tenants" and the more than a dozen failed escape attempts. Alcatraz Tours present an engaging piece of San Francisco's and American history as well amazing views of the City's skyline… but before we send you off the Island, hitch a ride in one of our VW Hippie Buses for an enthusiastic and authentic way to get-to-know San Francisco. Travel down unique streets where other busses are forbidden. Visit the homes of San Francisco's counter-culture icons such as The Grateful Dead, Janis Joplin, Jimi Hendrix, while grooving to the sounds of the 60's and other San Francisco classics.
In our little 6-passenger vehicle, we pack tons of historic facts, interesting stories and good old fun! We also have some stops for amazing pictures opportunities to forever capture your adventure in San Francisco. Hitch a ride with us today!
Details at a Glance:
Alcatraz Tours entrance (Tickets cannot be sold separately. Government-issued ID required for ticket pick-up)
2-hour guided tour of San Francisco
2 picture stops: Golden Gate Bridge & City Skyline
Up to 6 passengers per VW Bus
Tour will drop you off at Alcatraz Landing
Tour Start Times
8:30AM – SF Love Tours & Alcatraz Tours 11:30AM
11:00 AM – SF Love Tours & Alcatraz Tours 2:10PM
Pricing:
Adult: $99.00
Child (5-11): $87.00
Under 4: $69.00
Buy It As A Gift! You can always gift the tour to friends, family and business visitors for an amazing experience that they won't soon forget!
Pick-Up  Location for Alcatraz Tours & The Love Tours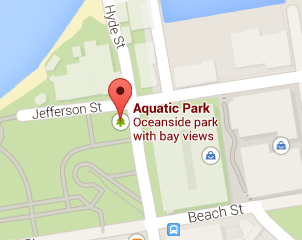 2899 Hyde Street @ the corner of Hyde & Jefferson Street on the Aquatic Park side. Directions…